Learn how to make new fabric from leftover fabric scraps! The results are just fabulous and best of all, you can use fabric scraps in any size or shape. The process is simple. Start with a foundation fabric backed with lightweight fusible interfacing, then layer fabric scraps, ribbons and even decorative fibers on top of […]
Packing cubes are perfect for travel. They are useful for sorting, organizing and compressing your clothing or other items before you put them in a larger suitcase. They are also useful if you have several family members sharing luggage. Each person can have their own packing cube which makes it easy to unpack once you […]
A hole in a favorite jacket or jeans doesn't mean your garment has to be headed for the scrap bin. Think of it as a style opportunity, and with a little decorative mending, you can revitalize your treasured clothing. In this short video, learn how to repair your clothing using visible mending which is an […]
In this video "Jack Creek Road" shares simple solutions for resolving problems with your sewing machine. Learn about the importance of spool pins and stacked vs cross-wound thread. Discover the proper way to use spool caps, spool stand and cones. Threads pose all sorts of problems when sewing so learn all about thread quality, and […]
A twin needle is two needles attached to one shank, and they can be used for a variety of different purposes such as decorative sewing, or sewing hems, or topstitching. These types of needles come in a variety of different sizes, just like ordinary machine needles, but they have two numbers – one indicates the […]
If you're a beginner sewer it can be confusing to know how to get started with setting up your sewing machine and making your first stitch. In this video tutorial "Tock Custom" demonstrates how to set up your sewing machine. Get started by winding a bobbin and inserting it into the bobbin holder, then threading […]
Using a sewing machine to bind a quilt makes it quick and easy to finish a quilt, and it also makes it easy to add a decorative trim. In this video tutorial, Jenny Doan demonstrates how to bind a quilt with a sewing machine and how to use The Binding Tool. Also learn how to […]
Discover creative sewing tips and tricks that will save you time and effort – and money! In this video, follow along as 5-Minute Crafts shares creative methods for threading a needle with thick thread – the easy way, repairing and recycling your old jeans, and repairing broken zippers. Discover hacks for fixing fitting problems with […]
Sewing doesn't have to be difficult or time consuming and these five sewing projects can be made in under 10 minutes! These easy sewing projects are perfect for beginner sewers, and include linen tea towels, scrunchies, a tote bag, pillowcases, and floral hankies. Most of these sewing projects are scrap busting projects and perfect for […]
This comfortable neck pillow is quick and easy to sew and takes less than 30 minutes to make. It's the perfect pillow for travel either by car or plane and will certainly make your journey more enjoyable. Make several for yourself in your favorite fabrics, or give as gifts to friends for their own travels. […]
This reversible bag is easy to make using different fabrics, and can be worn in two different ways. Use it as a tote bag without a closure, or add a magnetic snap at the top to keep the contents secure. You could also add some batting to make it feel plush and soft.
Shari Hiller teaches how to sew decorative pillows, using easy instructions for the beginner or the expert.
In this video tutorial, Jenny Doan from Missouri Star Quilt Company demonstrates some quick and easy techniques for sewing beautiful applique on a quilt.
Mitered corners reduce the bulk on the folded seams and allow the edges to meet evenly resulting in a neat and tidy finish. Making a mitered hem is easier than you think and in this video you'll learn how to miter, sew and finish the corners of tablecloths and placemats.
Learn how to make a creative drawstring bag using two coordinating fabrics, plus a surprise specialty fabric that is hidden in the folds and doesn't appear until the bag is opened.
In this video tutorial Jenny Doan from Missouri Quilting demonstrates how easy it is to make a Modern Quilting using charm packs and a 5″ Half Hexagon Template.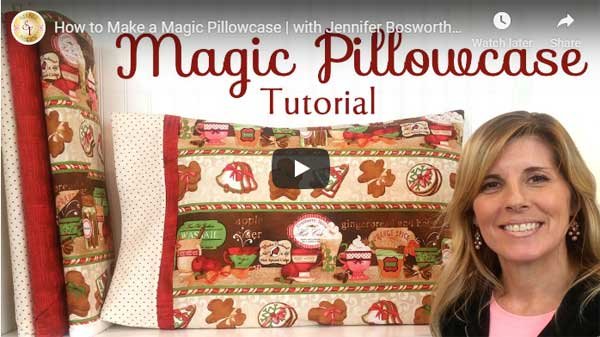 In this video tutorial, join Jennifer Bosworth of Shabby Fabricsr as she shows you how to make a Magic Pillowcase using the "burrito" method. Using this sewing technique, you don't see any seams. Jenifer also has suggestions for gifting and doing French Seams.
In this video tutorial learn how to insert a zip into any bag lining. Inserting a zipper into a lining is easy, and a zipper closure at the top of the bag will ensure that your belongings are secure and safe and won't fall out.