These fabric bowl holders are designed to go into the microwave with the bowl so that you can safely and easily remove the hot dish once it's cooked. These bowl potholders are easy to sew and can be used for holding hot meals when sitting in front of the tv. Make them in fabric to […]
Keep your kids entertained with this fun pillow. The pillow features a handy pocket for holding a book or other treasures, and also has a handle at the top so it can be easily transported from room to room, or place to place when traveling. The pillow can be made using fun coordinating fat quarters, […]
Fabric baskets are ideal for organizing all your stuff, plus you can make them using fabric in colors and patterns that coordinate with your home decor. This fabric basket is even more useful as it features pockets inside and outside, side handles that make it easy to carry the basket from place to place, plus […]
This sewing machine mat is thoughtfully designed with room for your legs and lots of pockets on one side to hold small tools and sewing supplies. The mat is fat quarter friendly, and perfect for using your favorite coordinating fabrics together with binding in a contrasting color. Get the free sewing tutorial here
Aren't these nested fabric bins adorable? They're also incredibly fun and functional, and can be used for storing so many different things. Plus, they can easily be made up in your favorite fabric to coordinate with your room decor. Make these cute fabric bins in three different sizes so they stack. What a great gift […]
Got too many fabric scraps? Here is a fabulous idea for using them up – turn them into fabric twine! You could fabric strips in the same colors to make monotone twine, or use fabric strips in contrasting colors to really show off the twists. Fabric twine is fun and easy to make and can […]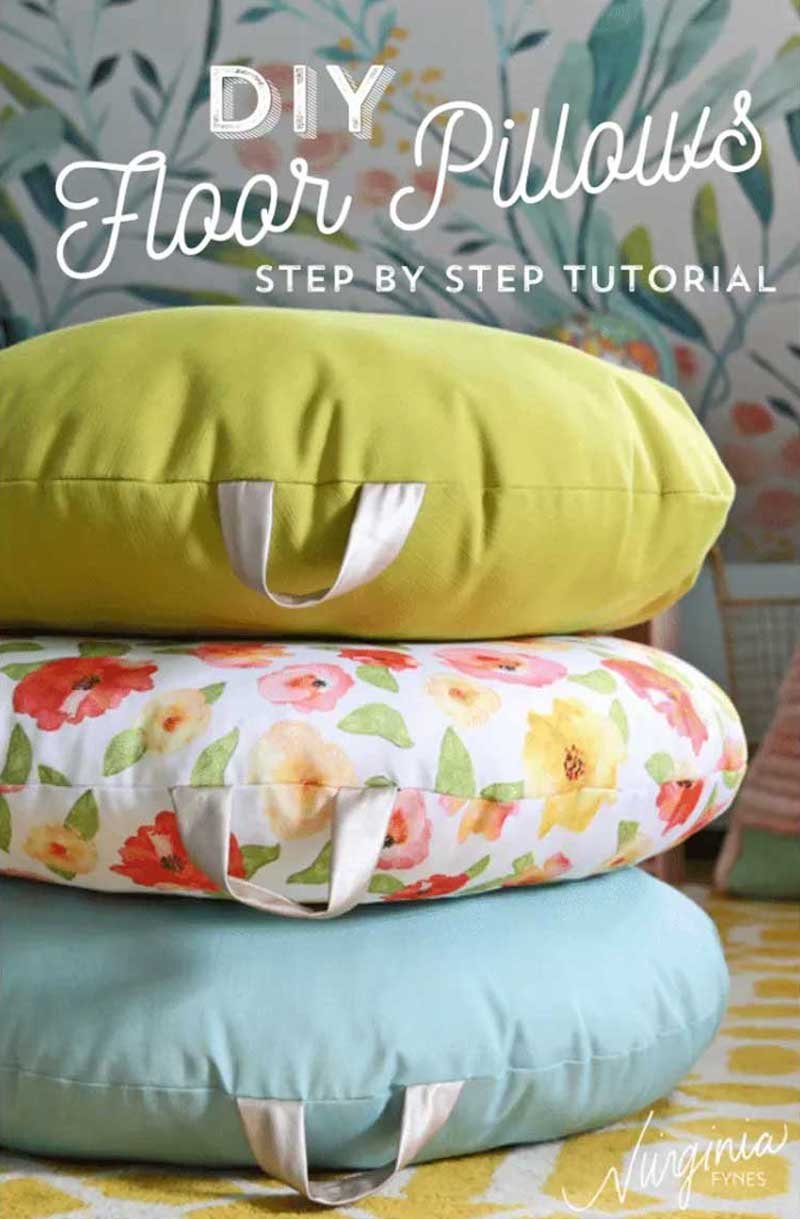 These floor pillows are perfect for adults to sit on, or for children to use when sitting or stretched out on the floor watching movies or playing games, or even for sleepovers. The pillows are filled with cotton, foam, or polyfil so they're soft and comfortable. They also have a sturdy leather handle so they […]
These pattern weights are quick and easy to make using fabric scraps and a filling of rice or even sand. The weights are perfect for holding paper pattern pieces in place while you cut them out using a rotary cutter. Using a rotary cutter to cut pattern pieces is a quicker process than using scissors, […]
You gotta love buttons – they're so versatile, useful, decorative, colorful and fun to use. They can be used for functional purposes such as on shirts and jackets, and they can also be used for embellishment on all your sewing projects and even art quilts. These twelve button tutorials are sure to inspire. How to […]
1. Mod Purse Refashion Refashion an old leather purse into a hip modern bag. Learn how to recycle all of the original purse's hardware, as well as make your own hand-stamped fabric for the top. 2. Necktie School Bag Got a bunch of ties and you're not sure how to use them? Upcycle them into […]
Notebooks and journals make thoughtful gifts for others – and for yourself! And if you add a hand-made cover, it makes the gift all the more personal and special. Each of these six free fabric notebook and journal cover tutorials is quite different in style and flavor. Using the instructions you can learn how to […]
Fabric face masks are easy to make for yourself, your family, and your friends. You don't need any special skills or sewing equipment, and they are quick to sew. The US Center for Disease Control currently recommends that all Americans wear face masks in public to reduce transmission of Covid-19. Even though fabric face masks […]
Packing cubes are perfect for travel. They are useful for sorting, organizing and compressing your clothing or other items before you put them in a larger suitcase. They are also useful if you have several family members sharing luggage. Each person can have their own packing cube which makes it easy to unpack once you […]
Stay organized and clutter-free with these creative sewing patterns. Organize your home, your sewing supplies, and your sewing space in no time at all. These sewing projects are ideal to give as gifts to your friends and family to help them stay organized, or keep them for yourself and organize your own clutter. Frogolio Sewing […]
Valentine's Day is the perfect day for sharing the love, and what better way to show your love than with a handmade valentine's day gift. Included in this compresensive list of free Valentine's Day sewing patterns are sewing projects for the kitchen, the family room, the sewing room – and even personal items. There is […]
This makeup bag is fast and easy to sew using only two coordinating fat quarters; one for the outside and one for the lining. The bag has a curved foldover flap with a snap closure, and lots of room for all your makeup. If you didn't want to use the bag to hold makeup, you […]
This comfortable neck pillow is quick and easy to sew and takes less than 30 minutes to make. It's the perfect pillow for travel either by car or plane and will certainly make your journey more enjoyable. Make several for yourself in your favorite fabrics, or give as gifts to friends for their own travels. […]
Shari Hiller teaches how to sew decorative pillows, using easy instructions for the beginner or the expert.
Mitered corners reduce the bulk on the folded seams and allow the edges to meet evenly resulting in a neat and tidy finish. Making a mitered hem is easier than you think and in this video you'll learn how to miter, sew and finish the corners of tablecloths and placemats.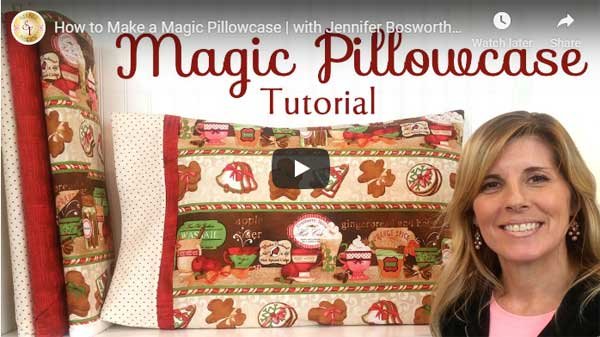 In this video tutorial, join Jennifer Bosworth of Shabby Fabricsr as she shows you how to make a Magic Pillowcase using the "burrito" method. Using this sewing technique, you don't see any seams. Jenifer also has suggestions for gifting and doing French Seams.
Learn all the steps you need to know to make and sew your own envelope pillow case cover. Pillow cases are easy to make and are a perfect sewing project for beginners.
In this beginner's gathered skirt-making tutorial learn everything you need to know to get started creating clothes to fit any age and size. Discover easy techniques for making a pattern that's completely customized to your body, then learn how to trace the pattern, cut out fabric, sew a basic hem, make a waistband, gather the […]
In this video tutorial, learn just how easy it is to make a simple rag quilt. This is a great project for beginning sewers and quilters. This rag quilt is made using 10″ square blocks, however you can easily adjust the size to make the quilt larger or smaller by cutting your blocks in a […]
These little fabric baskets are fun and easy to make and are perfect for using up your favorite fabric scraps or fat quarters. The baskets can be used to hold and sort all sorts of small things such as sewing supplies or crafting supplies; storing items in a bathroom or bedroom; holding stationery supplies; and […]