The Latest in Bags & Purses
In this video tutorial, join Jennifer Bosworth of Shabby Fabricsr as she shows you how to make a Magic Pillowcase using the "burrito" method. Using this sewing technique, you don't see any seams. Jenifer also has suggestions for gifting and doing French Seams.
This decorative fabric vase is fun and easy to make, and is perfect for holding kitchen utensils, artificial flowers, sewing materials, or even a glass vase with real flowers. Use your favorite batik or cork fabric together with some fusible interfacing to make a...
Fun and clever, these quilted cases are for glasses, cutters, notions and other take-alongs. Make the frog, turtle or butterfly case using simple quilting and doll-making techniques. Pattern includes templates and instructions for all 3 designs. Find the sewing...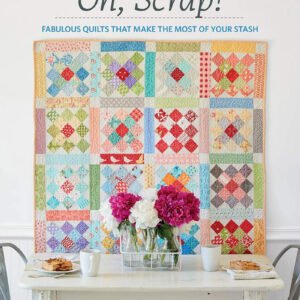 Want to be a scrap quilter and think like a scrap quilter? "Oh Scrap" offers page after page of tips for making dazzling scrap quilts bursting with colors, prints, and textures. Discover secrets for deciding which fabric combinations work (and understanding why others...
The Dottie Quilt is easy to put together and is layer cake and fat quarter friendly. Choose your favorite fabric collection in colorful colors to make a quilt that looks fun and bright. This pattern is made for a comfortable beginner or an intermediate quilter. Find...
Dress up your holiday table and make it an elegant one with this lovely runner. This table runner features a classic paper-pieced cardinal design and can be made using simple basic fabrics, or mix and match for a bolder look. Find the quilt pattern here
The Latest in Sewing Accessories