Free Bag and Purse Patterns
This handy bag is the perfect size to use as a carrier bag for your reading tablet, or you could even it as a book bag or a run-around tote. The bag is easy to make and features a small pocket on the front, an optional zipper closure at the top, and straps that can […]
This basket-style bag is large enough to use as a tote bag and stylish enough to use as an everyday purse. The bag features two interior pockets, and two short handles that are just long enough to wear over the shoulder. The top edge is bound, and the opening can be made using either a […]
This mesh bag is easy to make and is perfect for washing face masks, lingerie and other delicate items. First put the items into the mesh wash bag and then toss the bag in the washer. The bag protects your delicate items from getting tangled and caught up in larger pieces of clothing. The bag […]
This tote bag is roomy and stylish and is perfect for carrying your everyday essentials. The bag features a deep main compartment with six exterior pockets to keep the contents organized. The pockets are cleverly formed when the straps are stitched on. Choose your favorite patterned fabric to make this easy sewing project that is […]
This quilted tassel pouch is fun and easy to make. You can make the pouch using orphan quilt blocks, or you could make your own pieced fabric, quilted using the Ultimate Quilt'n'Stitch Presser Foot (suitable for low shank sewing machines only) which allows you to easily quilt lines from 3/8″ to 3″ apart. The pouch […]
This is the perfect lunch bag for carrying food and drinks to school, work, or day trips. The lunch tote features a zip closure on the top, and a handle with a clip buckle closure that opens out wide for easy access. The outside of the tote bag is made from laminated fabric, and the […]
The Clydebank Tote Bag features cut-out handles and comes in two different sizes. The small size is perfect to use as a handbag, and the large size is ideal to use as a work tote, a beach bag, or an everyday bag. The bag has two zippered pockets on the inside and a recessed zip […]
This cross body bag has lots of pockets and features two main pockets, a slim pocket in-between the main pockets, and an optional zippered pocket on the back. It also has two side loops so you can clip on a metal chain shoulder strap. This free bag pattern is easy to sew using fabric folding […]
These 10 free purse patterns are also very creative in the way that they have been designed, and the instructions include techniques for adding surface texture, surface design, creative sewing and embellishing. You'll definitely enjoy making these purses. 1. Selvage Purse Don't throw away the selvage edges of your fabrics; instead use them to make […]
1. Mod Purse Refashion Refashion an old leather purse into a hip modern bag. Learn how to recycle all of the original purse's hardware, as well as make your own hand-stamped fabric for the top. 2. Necktie School Bag Got a bunch of ties and you're not sure how to use them? Upcycle them into […]
This reversible handbag is quick and easy to make and features several small pleats along the top edge which provides more room inside the bag. The top edge is finished with a simple binding which is sewn in before the straps are attached. This bag is perfect to make using you favorite coordinating fabric and […]
Messenger bags are one of the most versatile bags around. They come in all sorts of sizes and are ideal for women, children, and even men. Whether it's for work, school or the office, a messenger bag has plenty of pockets and plenty of room to carry whatever you need to get you through the […]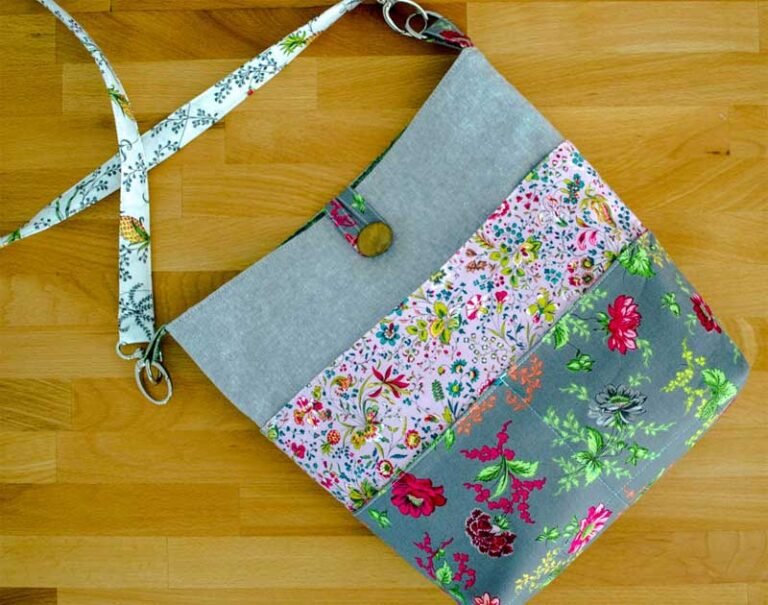 This tote bag features lots of exterior pockets to keep the contents organized, which makes it perfect for everyday use and also for travel. A button and loop closure makes it quick and easy to access the inside contents, and D-rings with swivel snap clips are used to attach the straps. The box shaped bottom […]
Zipper pouches and purses are the ideal sewing project for using up your fabric scraps. They are quick and easy to make and are perfect to give as gifts or keep for yourself. They can be used for storing and organizing sewing tools and notions, small sewing projects, and even the small items in your […]
This bag is made from laminated fabric and is perfect to use as a diaper bag, computer bag, book carrier or overnight bag. Using a good stabilizer gives it great shape and structure with too much bulk, and using laminated cotton on the outside it's easy to keep the bag looking fresh and clean. With […]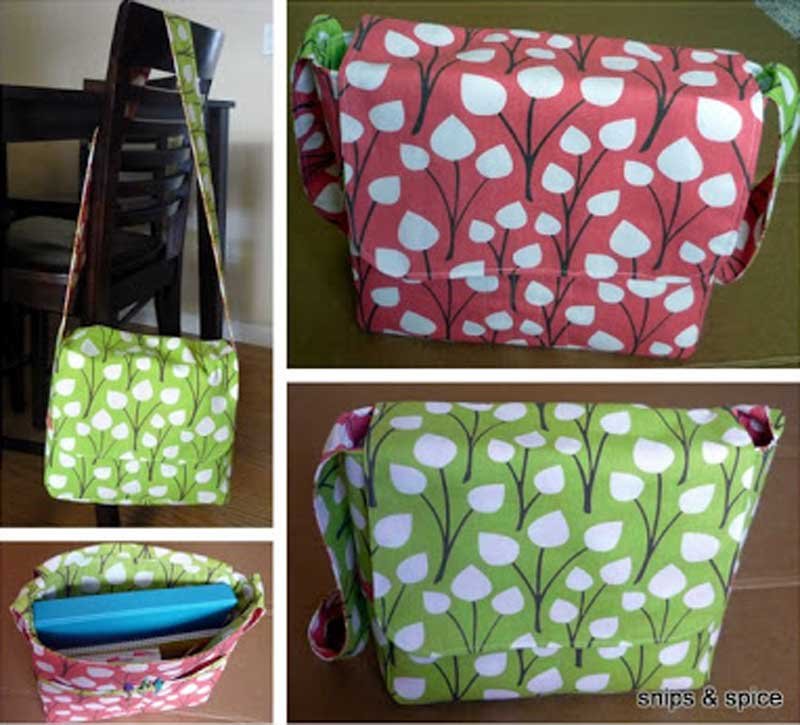 This reversible messenger bag is easy to make in your favorite fabrics. And best of all, you get two bags for one! When you need a change, simply turn the bag inside out for a completely different look. The bag features a long shoulder strap, with pockets on the sides and a large pocket on […]
Tote bags are the perfect bag for times when you need to carry lots of stuff. These types of bags can be made in different sizes to suit different purposes – such as for carrying your groceries, for travel, or for storing your sewing projects. Tote bags are generally easy to make and can be […]
Vintage Coin Purse Coin purses never go out of fashion and you can never have too many. This cute purse is made using a metal frame and is embellished using tiny fabric yo-yos. How cute. Find the free purse pattern here Vintage Rose Frame Purse Use vintage style floral fabric in contrasting colors to create […]
This reversible bag is easy to make using different fabrics, and can be worn in two different ways. Use it as a tote bag without a closure, or add a magnetic snap at the top to keep the contents secure. You could also add some batting to make it feel plush and soft.
Learn how to make a creative drawstring bag using two coordinating fabrics, plus a surprise specialty fabric that is hidden in the folds and doesn't appear until the bag is opened.
In this video tutorial learn how to insert a zip into any bag lining. Inserting a zipper into a lining is easy, and a zipper closure at the top of the bag will ensure that your belongings are secure and safe and won't fall out.
Learn how to make a simple tote bag which is a great project for beginning seamstresses. This lined tote bag is easy to make using coordinating fabric for the top section and the bottom section.
Zipper pouches are useful for storing and organizing all your small sewing and craft supplies – plus they're quick and easy to make! In this DIY video tutorial, learn an easy way to make a purse with three zipper compartments. To make this zipper pouch, you'll need: – your favorite fabric – Zippers – 3 […]
Clutch purses are quick and easy to make, and plain clutches can be dressed up using fabric manipulation techniques, or other types of creative embellishment. These free clutch purse sewing patterns are cute and functional and perfect for everyday use as a grab-and-go purse for running errands, or for storing and organizing small items. Pin […]