Have you ever wanted to start your own sewing business? It's never been easier.

If having your own business selling what you sew is your dream, you can make it a reality with a little planning, time and effort. Whether you're a stay-at-home mom or have a job that's become a daily grind, you can easily get started building a sewing business using the time that's available to you.

In today's economic climate, having your own business is a smart choice that will give you a certain amount of financial security. Start slowly, and then grow your sewing business into a full-time business if that's your dream. You get to choose how much time you want to invest in it, and your financial income will expand and grow as your business expands and grows.

Your business won't get off the ground however, unless you take the first step! These resources will get you started in the right direction.
Books
Sewing to Sell
This book includes 16 projects to start sewing and selling right now. Included is everything you need to know from finding your personal sewing style to creating a product line, identifying customers, equipping a sewing studio, pricing and selling your work, marketing, designing patterns, and handling the business and legal side of sewing.
More Sewing to Sell
Take your handmade business to a truly professional level with practical advice from industry experts and learn how to sell your handmade items for a real profit. This hands-on guide to the sewing business includes 16 new sewing patterns, all copyright and royalty free, ready to customize for craft fairs or online shops. Make the most of your fabric, time, and resources when selling handmade totes, aprons, quilts, and more!
The Everything Guide to Selling Arts & Crafts Online
Here's all you need to realize your dreams of turning your handiwork into cash – online! With the popularity of Etsy and Pinterest, serious art and craft buyers and sellers are turning to the online world to buy, sell, and promote beautiful, homemade creations … but where to start? This A-Z guide provides expert advice on building an online presence and getting your creations into the hands of buyers.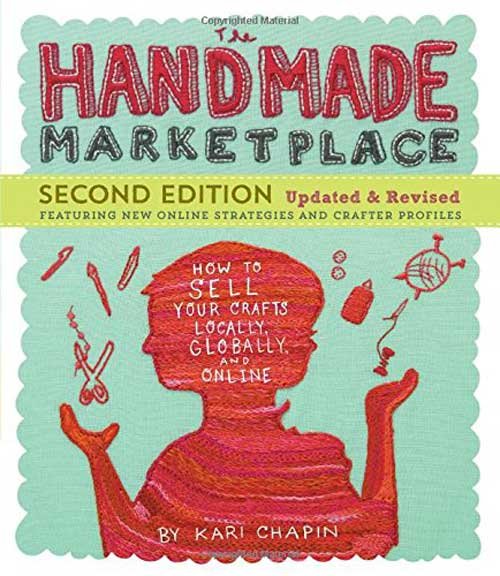 The Handmade Marketplace
Make money doing what you love. Kari Chapin's insightful and inspiring guide to turning your crafting skills into earned income has been completely revised and updated. The Handmade Marketplace is filled with proven techniques that can help you brand your business, establish a client base, sell your products, and effectively employ all aspects of social media. Learn how easy it is to enjoy a lucrative career while leading the creative life you've always craved.
How to Show & Sell Your Crafts
For crafters who want to take their craft to a new entrepreneurial level, this book is the perfect guide. Using highly-visual, step-by-step tutorials, How to Show & Sell Your Crafts is packed with helpful branding, selling, and merchandising tips that no serious crafter should be without.
Craft Business Power: 15 Days To A Profitable Online Craft Business
It has never been easier to start a home based business using the Internet to sell what you make. A whole generation of young families are enjoying additional income because they've learned to make and sell from the comfort of their home. The potential is real and the impact on household budgets can be life changing. If you're ready for a realistic 15 day plan for launching a profitable craft business that is easy to follow, filled with practical advice, and proven to work, this book is for you.
How to Start & Maintain a Profitable Sewing Business
Do you love to sew? Do you pay close attention to detail? How would you like to make money selling what you sew? Whether you already have business skills, or are completely new to business, this book will engage you, and will give you ideas on how to start and maintain a successful sewing business. It is filled with checklists, ideas, business pointers, and questions you should ask yourself before going into business.
Online Classes
Fast Start Your Sewing Business Online Class
Turn your knack for making crafty accessories into a business.
Handsewn accessories have so much more charm and personality than their mass-produced counterparts. And stylish ladies love them! Learn how you can use your sewing skills as a foundation for a thriving handmade business and turn your knack for making crafty accessories into a viable, vibrant business. Take a behind-the-scenes look at a thriving sewn accessories business as you learn the ins and outs of selling online and in stores.
How to Start a Machine Embroidery Business Online Class
Start your machine embroidery business! Learn the day-to-day business basics you need to lay out a solid foundation for success.
Have you ever dreamed of turning your passion into a profession? Find out how easy it can be and learn just how to start your embroidery business. Learn what you need to know to choose between a single or multi-needle machine, manage inventory effectively and set prices to turn a profit. Plus, get tips for hooping best-sellers, and learn Marie's easy methods for promoting your business, whether you're partnering with local shops or making a buzz on social media!
The Art of Selling What You Make
If you have serious crafting skills and are ready to transform your work from a pastime to a thriving business, this three-day immersion into sales and marketing in the age of Etsy is for you. This course will help you think like a service-based business to maximize positive customer relationships and sales. Using and applying basic pricing strategies and psychology, you'll learn how to set prices that reflect the value of what you do while still remaining realistic for your customers. You'll learn how to write marketing materials and create an online presence that piques the interest of clients.
Start a Handmade Business Online Class
Lay The Foundation That Will Ensure Your Business's Success.
Most artists and crafters are easily inspired to create new work, but getting inspired to build a business that shares that work with the world can sound like a much more daunting prospect. Kari Chapin, author of The Handmade Marketplace and Grow Your Handmade Business, is ready to teach you everything you need to know to break into the online marketplace and share your work with the world.
The Right-Brain Business Plan Online Class
A Business Plan For An Artistic Mind.
Learn how to grow your business in a profitable, sustainable way using that unique, imaginative brain of yours. In this class learn how to craft a business vision and takes you step-by-step through the planning process. You'll learn how to select a business team, manage your money, evaluate the competitive landscape, and develop a clear idea of how to set and achieve your business goals while using your creativity and having fun.
How to Make a Living Selling What You Make Online Class
Make sure your small business makes money.
How to Make a Living Selling What You Make is your complete guide to building a thriving handmade business. Learn how to generate revenue from the beginning while balancing longer term growth, find the best and worst revenue streams for your products, set targets, create profitable pricing, and evaluate market demand. Discover how to deepen your product line and build your brand, grow your email list and use social media for long-term growth, and develop production strategies as you start creating more product.
Sell Your Products to Retailers Online Class
Discover concrete, easy-to-apply tools for using wholesaling to bring your products to a larger audience.
Selling your products at local art shows and craft fairs is a great way to network in your community, but it's not the easiest way to grow your business. Landing your products on the shelves at boutiques or other retailers is the key to success.
Sewing For Selling: Small Batch Production for Home-based Business
Have you always wanted to sell your sewn items in an Etsy shop or at craft fairs? Maybe you already do but you're sales are limited by how quickly you can make your items. In this class you will learn how to optimize your pattern layout and streamline your sewing process so you can sew in small batches of up to 15 items at once. This will save you time, fabric, and ultimately money!