In this product review, learn how the Accuquilt Fabric Cutting System will make your sewing and quilting easy and fun.
AccuQuilt fabric cutters are designed specifically for quilting and sewing and will reduce your fabric wastage, ensure accuracy, and get you sewing up to 90% faster than when using scissors or a rotary cutter. The cutters will minimize the strain on your joints while cutting up to 6 layers of cotton fabric at a time. The machines are also small and portable and have a handle so they can be easily stored away.
If you're a beginner and have never used a fabric cutter before, you'll want to watch the DVD that comes with your machine as it will give you instructions on how everything works. However, the cutter is very easy to use and you'll be up and running in no time at all. Accuquilt also have a comprehensive video library that not only demonstrates how to use the machines, but includes creative projects and tutorials as well.
Accuquilt Cutters are Easy to Use!
Even beginners will find the Accuquilt Cutting System easy to use. It's as simple as one – two – three!
One
Layer die, fabric and cutting mat. With the foam-side of the die facing up, place the fabric on top, then position on the cutting mat.
Two
Push die, fabric and mat through the roller using the hand crank. Make sure to go slowly to ensure the accuracy of the cut.
Three
Remove the mat and the perfectly cut shapes are ready to use! Simply repeat the process until you have the required amount of pieces.
Hundreds of Dies to Choose From
The AccuQuilt system includes over 200 dies that you can choose from to create the perfect shapes for your quilting and sewing projects. The dies will save you time and energy when cutting, and come in a huge variety of different shapes …
from standard quilt block shapes such as simple square block shapes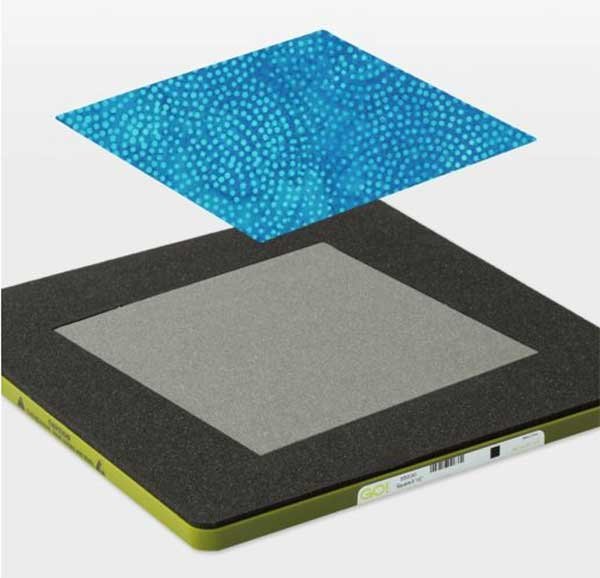 to intricate shapes such as flower assemblies comprising multiple shapes.
Hundreds of Free Patterns!
Accuquilt offer hundreds of free patterns including home decor, apparel and accessories, block patterns and ideas, and books, that include color illustrations and step by step cutting and sewing instructions. Make cushions, quilts, kitchen accessories, bags and purses with creative patterns and applique shapes.
Accuquilt also offer hundreds of free embroidery designs that can be used to embellish the die shapes and finish off your sewing project with a professional look.
Choose the Cutter That's Perfect for You
Accuquilt offer a selection of different cutters to suit your needs
There is an Accuquilt cutter for everyone …
Go! Me Cutter: for beginning quilters, kids, and makers
Go! Cutter: for everyday quilters, students, hobbyists
Go! Big Electric Cutter: for everyone, especially arthritis sufferers
Studio 2 Cutter: retailers, experts, avid quilters
Save with Starter Sets
Get up and running quickly – and Save! – with these conveniently packaged starter sets.
This starter set includes a GO! Big Electric Fabric Cutter, every GO! Qube, Edyta Sitar's Serendipity Qube, a GO! quilting ruler, cutting mats, pattern book, GO! Rotary Cutter, plus patterns and instructions. Have everything you need at your fingertips…just add fabric! This is a collection that will make any quilter's dreams come true!
GO! Just Add Fabric-12″ Block Starter Pack
Make big 12" blocks into even bigger quilts in no time at all. This set comes complete with the GO! Fabric Cutter and GO! 12″ Qube, together with lots of other goodies that you'll find indispensable for making beautiful quilts. Just add fabric and you'll be on your way to wonderful quilt making.