Learn How to Make Your Own Bags and Purses with these Online Classes
This post may contain affiliate links. Please read the
disclosure
for more info.
This roundup of today's most popular bag making online classes is guaranteed to give you the skills you need to make your own beautiful bags and purses.
Making your own bags and purses is fun, and once you know how a bag goes together it's easy to design your own in a size and style that's perfect for you. Once you have the basic skills, you can then go on to choose your own types of fabrics, the number of pockets, and even select the type of hardware to make your own unique bags and purses.
Making Leather Bags Online Sewing Class
Don't spend hundreds on a handbag when you can make one on your sewing machine. Customize and sew boutique-quality leather handbags with designer Don Morin.
Learn professional leatherwork techniques to create a sophisticated and stylish leather tote using Don's Craftsy-exclusive pattern. Discover tips for selecting quality leather and to efficiently lay out your pattern to get the most and best from your leather hide.
Sew Sturdy: The Ultimate Travel Bag Online Class
Don't lug your luggage; love your luggage! Make a beautiful travel bag with durable structure, designer touches and professional construction details.
Learn step-by-step construction starting with how to create sturdy quilted fabric with foam stabilizer that will become the bag's front, back and side panels. Create reinforced handles and sturdy straps, a variety of pockets, and add a stabilizer sleeve to the bottom of the bag. Learn how to install zippers, shape the bag's edges and bind them beautifully.
Learn to Sew a Designer Handbag Online Sewing Class
Sewers with beginner skills can now learn how to sew their own designer handbag with basic supplies and a sewing machine. Learn step-by-step how to make a stunning batik handbag with lots of pockets and space inside. Choose a solid or pieced fabric bag, interior and exterior pockets, long or short straps and a tall or shorter bag. You'll love all the options you get in this class.
Elegant Machine Embroidered Bags Online Class
Embellish a custom-sewn tote, clutch, makeup bag and more with marvelous machine-embroidered motifs!
Discover the best methods for selecting, stabilizing and hooping bags that perfectly showcase your machine embroidery. Learn how to embroider a variety of pre-made bags and conquer the challenges of tight corners, tough fabrics and small spaces. Learn how to double hoop for a supersized design, add contrasting fabric, sew side seams, and create fuss-free corners.
Learn to Sew a Designer Crossbody Bag Online Class
They're fun. Casual. Convenient. And in style. With extra-long straps to comfortably drape across your body, crossbody bags are perfect for an afternoon of shopping or a lively night out on the town. You'll love wearing this designer crossbody bag. It's sleek shape hugs your body keeping your hands free while also making a fashion statement as the perfect accessory. It's also the perfect size for holding an electronic tablet such as an iPad or Kindle.
Sew Sturdy: The Essential Backpack Online Sewing Class
Stay hands-free and organized with a backpack you sew yourself.
Join designer Annie Unrein as she guides you step by step through creating a stylish, durable and professional-quality backpack with pockets, zippered compartments, a magnetic flap and more.
Giftable Projects: Zippered Bags & Purse Organizer Online Sewing Class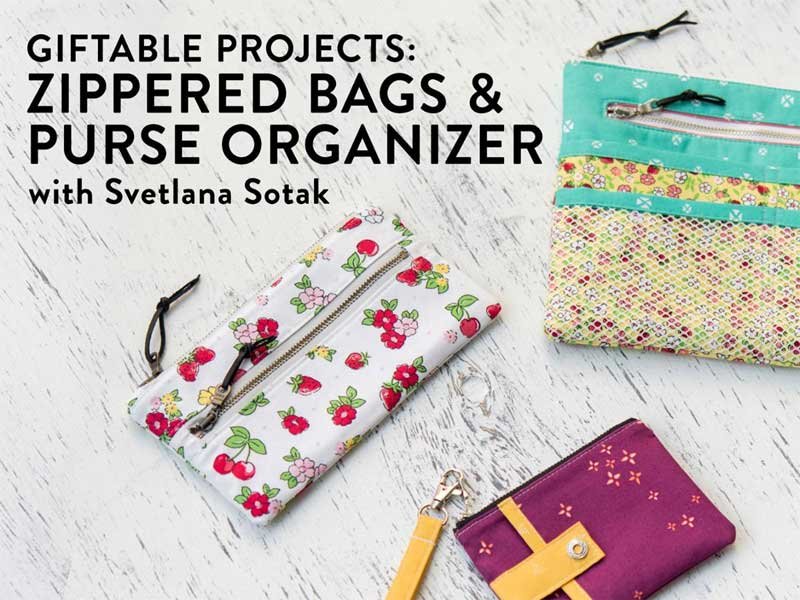 Bust your stash with adorable — and giftable — zipper pouch projects!
Say goodbye to digging through the depths of your purse for Chapstick with three on-trend zipper pouches! Pattern designer Svetlana Sotak shares her techniques for working with metal zippers and decorative snap hardware to help you sew on-trend pouches and organizers.
Stamped and Sewn Backpack Online Class
This stylish backpack is modern, chic, and easier than it looks. Arounna Khounnoraj of Bookhou shows you how a few rectangles of canvas can turn into a gorgeous everyday bag. You'll begin by creating a unique stamp for printing the pocket fabric of your backpack. She'll then show you how to shape the body of the bag with an easy gusset, and add leather straps for a beautifully finished backpack. All steps of the project are easy to do with a home sewing machine and a few straight stitches.
Quilt-As-You-Go Patchwork Bags Online Class
Add spontaneous piecing to your bag of quilting tricks and make a beautiful patchwork tote designed by Tara Rebman.
Learn the theory behind the quilt-as-you-go technique by working your way through a charming potholder before creating the "Tinker" patchwork bag from blocks you create on the fly. Discover how to use scraps from your stash to build out from a single square using a free-handed approach that celebrates the uniqueness of each quilted bag.
Learn to Sew: Simple Bags Online Class
Journey into successful sewing! Create two cute styles of bag as you learn basic skills for projects that will make you proud.
Develop essential skills as you create exciting projects — and start sewing with confidence! Join instructor Nicole Vasbinder and make sure your first steps into stitches are nothing but successful. During class, you'll create two cute styles of bag: a timeless foldover tote with customizable pockets, and a tasteful zippered clutch. Both are approachable projects perfect for honing your new skills!
Building Better Bags: Interfacing & Structure Online Class
Savvy sewers know interfacing is the secret to professional-looking bags. Learn how to choose and use each type for beautiful bags with custom structure.
Make any handbag structured and stylish with techniques for selecting the best interfacing for bags. See how to work with flexible fusibles, medium and heavy-duty interfacings, fleece, foams and more as you explore bag-making from the inside out. Discover the best way to test, fuse and sew each interfacing and get tips for using interfacing to support handles and hardware.
Build Your Own Tote: From Start to Finish Online Class
Tote bags are an incredibly useful accessory and great entry point for beginning sewers.
In this class, start with the basics and learn how to build a classic tote, then advance into more complex embellishments. Included are instruction on techniques that allow you to customize your tote in a whole range of exciting ways – from exterior and interior details to zippers and hardware. Build a bag you are excited to carry, sell, or gift!