12 Free Upcycled Bag Patterns
This post may contain affiliate links. Please read the
disclosure
for more info.
Refashion an old leather purse into a hip modern bag. Learn how to recycle all of the original purse's hardware, as well as make your own hand-stamped fabric for the top.
Got a bunch of ties and you're not sure how to use them? Upcycle them into this creative schoolbag. Use some heavyweight stabilizer to help keep the shape of the bag, and add a magnetic snap closure to keep things secure.
The Rachel Handbag is super cute with convenient pockets on the front to keep things organized. To make the bag you could upcycle an old potato sack, or for convenience, use some fashion printed burlap fabric. Attach the knotted handle with some metal rings and use a magnetic snap closure to keep yoru contents safe.
Turn your old ties into these DIY Necktie Zip Pouches. A very very simple sewing project that would make great DIY gifts for your favorite guy!
Learn how to use all the details you find in clothes: the little buttons, pleats and seams – to create this fun upcycled purse.
6. Scarf Bag
Upcycle an old (or new) scarf into a lovely summer bag. With so many gorgeous designer inspired scarves out this season, it's always great to find new ways to wear them, and because this scarf bag has a lightweight, billowy nature it is the perfect Summer accessory.
Drop cloth fabric can give you a linen look at a fraction of the cost, and can be used for all types of home decor sewing, as well as bags and purses. This tutorial shows you step-by-step how to design this fresh and simple summer tote bag with lots of pockets.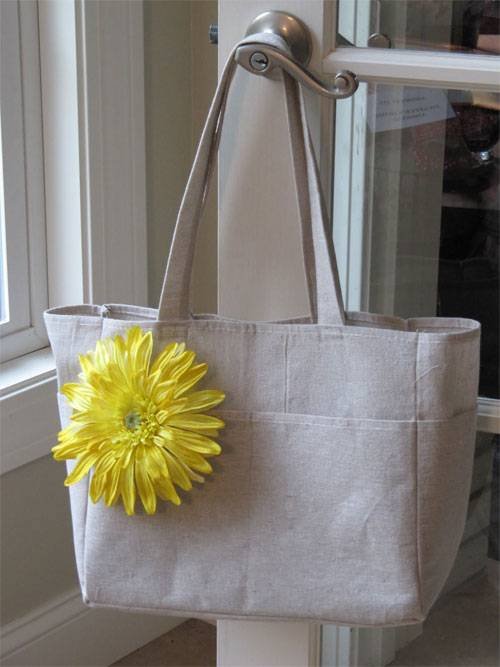 8. Recycle Jeans/Denim Backpack
Don't Throw Away Your Shabby Jeans! This tutorial shows you how to turn your lovely old denim jeans into a handy backpack. For a professional finish, add some metal hardware such as eyelets along the top edge to thread the drawstring, and triglides and rectangle rings to finish the straps.
This skirt was made using a charm pack, but unfortunately the fit couldn't have been more frumpy. The solution – refashion it into a cute purse! This is an easy method of turning a favorite skirt into a purse.
10. T-Shirt Tote Bag
Upcycle your old t-shirts into this fun tote bag.
11. Bandana Snap Bag
This bag is easy to make made using the pointed ends of a bandana. You could make two small purses from one bandana, or one large purse using one bandana cut in half from point to point.
12. Shirt to Purse
Learn how to use all the details you find in clothes: the little buttons, pleats and seams – to create this fun upcycled purse. Line with fusible fleece, and add a strong shoulder strap using webbing.