Sweetly Stitched Handmades includes 18 original designs that incorporate patchwork and embroidery, natural linen, and a carefully chosen color palette of patterns and prints. The projects range in difficulty so that a beginning sewer may easily complete a few projects...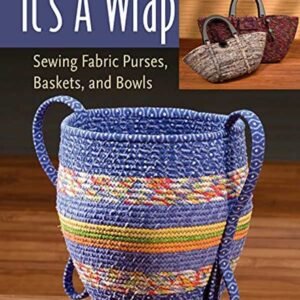 Wind, wrap, and sew fabric strips into fantastic containers! Start with a plate shape to learn the technique, then experiment with four basic container styles to create round, oval, square, and other shapes. Create purses, baskets, and bowls in an endless variety of...
This book will teach the beginner sewer everything you need to know to get started sewing. Learn how to find the right sewing machine, discover essential skills for sewing, how to lay out, cut and customize patterns, and much more. Step-by-step instructions are...
Embrace the versatility of crazy quilting with these 10 sewing projects that are quick to sew and fun to make. Make bags and purses using a mix of cotton, wool, linen, and silk for eclectic fabric pairings, then embellish them using embroidery and beading stitches...
Sew Me! Sewing Basics is the perfect book for anyone who wants get started in the craft, or just needs a quick refresher course on sewing. Get started by choosing your first sewing machine and learning the most basic techniques and shortcuts. Then move on to cutting...
The Stitch Bible is an indispensable guide to the most popular hand stitches and essential stitching techniques. The reference book includes 225 embroidery stitches and techniques, plus 17 projects to practice what you have learned. Techniques include freestyle...
If you've always wanted to organize your sewing room, this book will help you do just that. Choose from 10 projects that include pincushions and fabric organizers for the sewing room to keep your supplies neat and tidy, as well as travel projects that will keep your...
No matter what size or shape you are, wearing garments that fit perfectly makes you look and feel better. Rather than making commonly accepted changes to a commercial pattern, the method presented in this guide focuses on the way a test garment fits the body. The...
The Complete Photo Guide to Sewing is the definitive guide to all things sewing. With this comprehensive guide, you will know exactly how to choose the right tools and notions, use conventional machines and sergers, perfect your fashion sewing and tailoring, and...
This book presents an illustrated guide to the tools, equipment and fabrics needed for making garments, as well as teaching basic sewing techniques. Find detailed instructions for adapting and altering store-bought patterns so that they fit your body type, as well as...
Discover simple but ingenious storage solutions to sew that look amazing and will keep your home neat, tidy and beautifully styled. Projects can be made for all areas of your home and include tablet cover, drawstring toy bag, sewing machine bag, jewelry pouch, and...