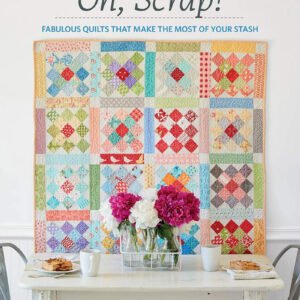 Want to be a scrap quilter and think like a scrap quilter? "Oh Scrap" offers page after page of tips for making dazzling scrap quilts bursting with colors, prints, and textures. Discover secrets for deciding which fabric combinations work (and understanding why others...
Discover the mix-and-match possibilities for fabulous quilts with these 24 row designs. Included are patterns for tried-and-true favorites, fresh quilts for every season, and playful, carefree designs, plus nine blender rows to help tie them all together. Find the...
It's easy to plan your machine quilting – simply open Shape by Shape Free-Motion Quilting and find creative inspiration on every page. User-friendly and visually exciting, the contents are divided into three sections: blocks, negative space, and borders. Included are...
In The Improv Handbook for Modern Quilters, learn a flexible approach to quilting. Instead of traditional instructions, explore 10 frameworks that create a guiding, but not limiting, structure. Gain confidence as you work through detailed lessons for stitching...
Quilting Modern teaches quilters how to use improvisational techniques to make graphic, contemporary quilts and quilted projects. It is a field guide for quilters who strive to break free from tradition and yearn to explore improvisational work. New and seasoned...
Learn how to turn beautiful Jelly Rolls into fabulous quilts, each of which can be made from just one roll. Discover how to make the most of this fresh approach to fabric, as well as tips on adapting the quilts to your existing stash. Step-by-step instructions and...
Lift your art quilting to the next level with eleven fun projects that teach great new techniques for stitching and embellishing. Learn how to create bright and cheery fused-applique quilts the easy way together with a host of great new hand stitching techniques, and...
Choose from eight lovely quilts that you can make in just one day with smooth curves that look fabulous on the very first attempt. Sewing traditional curved seams can be a challenging task, but this book illustrates how to use a simple method to quickly and easily sew...
Create stunning, contemporary quilts from gorgeous precut fabric bundles, including Jelly Rolls, Layer Cakes and charm packs. If you're looking for ideas on how to use your fabric stash, these modern quilt designs will inspire you to dig into your collection. Create...
Choose from 12 adorable baby quilt patterns and quilting designs for kids that you can make in a weekend. Many of the quilt designs use large fabric prints, which make the quilts quick and easy to make and suitable for beginner quilters. These quilts are perfect to...
This guide features five beautiful step-by-step projects that show you how to create fun and unique applique art. Use colorful layered fabrics and delicate sketch-like stitching, together with freehand machine embroidery and embellishments to create contemporary...