Tis the Autumn Season: Fall Quilts and Decorating Projects
Tis the Autumn Season: Fall Quilts and Decorating Projects
Dress up your holiday table and make it an elegant one with this lovely runner. This table runner features a classic paper-pieced cardinal design and can be made using simple basic fabrics, or mix and match for a bolder look. Find the quilt pattern here
The Pumpkins and Cream Quilt features rows of pumpkins, with tiny classic blocks in the center of each pumpkin. Make the quilt using a mix of pale oranges and creams to produce a quilt that is soft and timeless and reminiscent of a vintage Halloween quilt. Find the...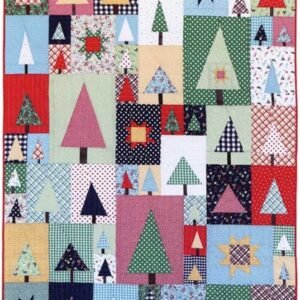 The Pine Hollow Patchwork Forest Quilt Pattern features adorable blocks of trees and stars. Make this quilt using your favorite fat quarters using a variety of shades and patterns to give the quilt lots of visual interest. Find the quilt pattern here
Bust your stash with adorable — and giftable — zipper pouch projects! Say goodbye to digging through the depths of your purse for Chapstick with three on-trend zipper pouches! Pattern designer Svetlana Sotak shares her techniques for working with metal zippers and...
Make yourself a set of pot holders that celebrates each month of the year. These pot holders are perfect to give as gifts, so make a couple of extra while you are stitching. Try several different applique methods, including freezer-paper, fused and interfaced...
These lovely in-the-hoop embroidery designs will add the perfect finishing touch to any gift you give for any occasion. Each tag has a pocket that will fit things like gift cards, money, movie tickets, handwritten note and other small items. Designs include a Happy...
Prezzies is a gift wrap that's a present in itself. These small hand-made gift wraps are perfect for holding small gifts or even gift cards. Alternatively you could use them for travel or for organizing small items in your purse. Use Stiff Stuff Craft Pack for...
Use innovative machine embroidery designs to stitch and construct great gifts, entirely in the hoop! Discover stabilizing, trimming and hooping tricks you won't find anywhere else that you can use to create five fantastic projects completely in the hoop. Expand the...
Personalize a gift card to suit the recipient and make the perfect gift even better. These elegant, all-purpose fabric gift card holders come in two sweet styles. The "keeper" style wraps closed to keep it a surprise, and the "tag" style is perfect tied to a gift or...
Let handmade, no-sew gift bags dress up every occasion. A little fusible web and a fat quarter or two will make your gift so extra special. Personalize your bag with trims, embellishments, and decorative handles to complete your signature look. Break out some of those...
This special collection of quilted treasures is bursting with all the inspiration and quilting patterns you'll ever need for the coming holiday season. Beautiful, full-color photos accompany each article, together with easy charts and instructions. Make every special...