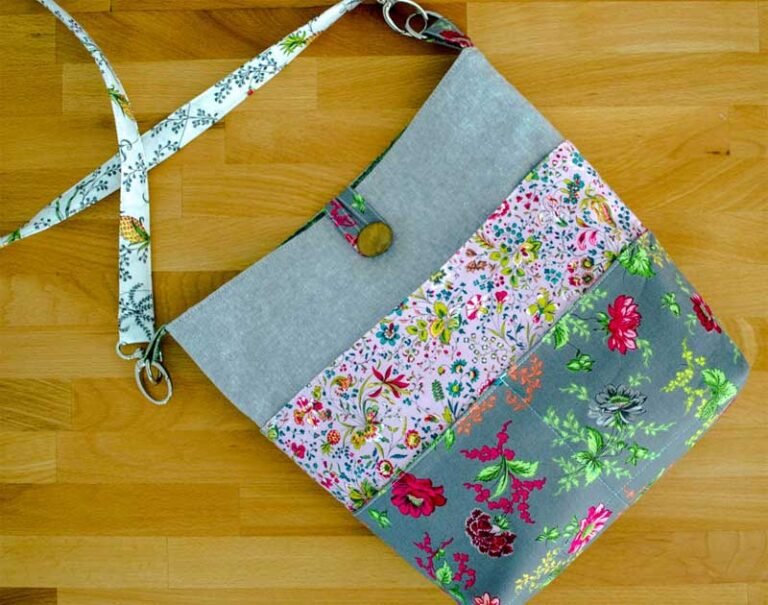 This tote bag features lots of exterior pockets to keep the contents organized, which makes it perfect for everyday use and also for travel. A button and loop closure makes it quick and easy to access the inside contents, and D-rings with swivel snap clips are used to attach the straps. The box shaped bottom […]
This medium-sized bag is full of great detailing. The bag features a top zipper closure, a short handle and a long cross-body strap, and optional piping. With an outer flap pocket and two inner zippered pockets, there is plenty of storage space to keep all of your essentials organized. The bag has an edgy zipper […]
Zipper pouches and purses are the ideal sewing project for using up your fabric scraps. They are quick and easy to make and are perfect to give as gifts or keep for yourself. They can be used for storing and organizing sewing tools and notions, small sewing projects, and even the small items in your […]
This bag is made from laminated fabric and is perfect to use as a diaper bag, computer bag, book carrier or overnight bag. Using a good stabilizer gives it great shape and structure with too much bulk, and using laminated cotton on the outside it's easy to keep the bag looking fresh and clean. With […]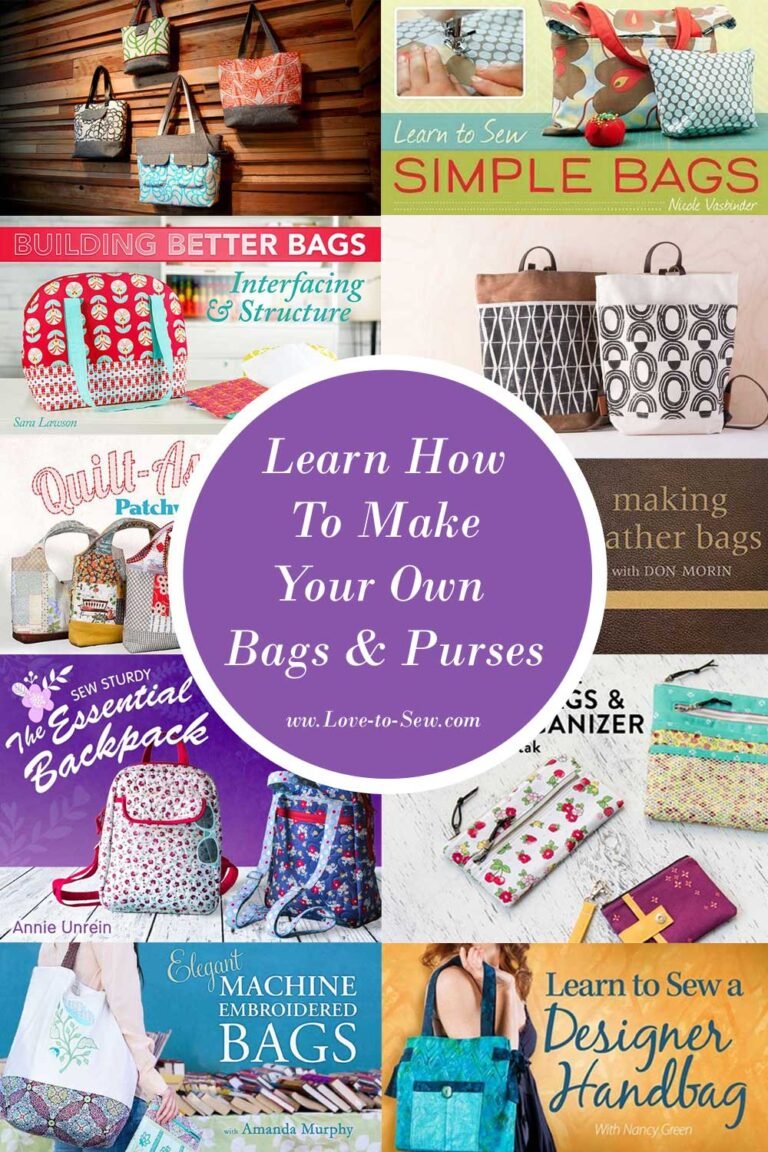 This roundup of today's most popular bag making online classes is guaranteed to give you the skills you need to make your own beautiful bags and purses. Making your own bags and purses is fun, and once you know how a bag goes together it's easy to design your own in a size and style […]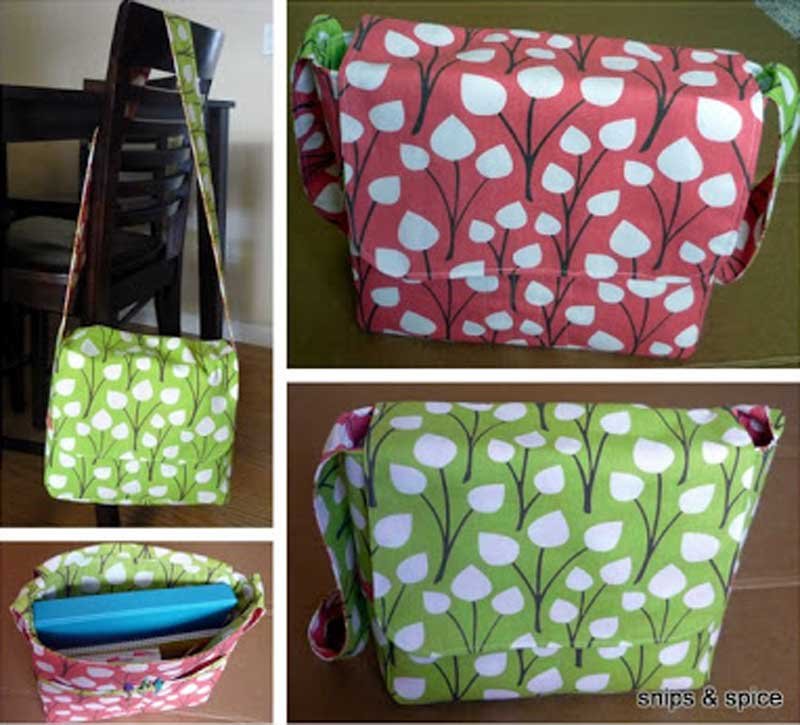 This reversible messenger bag is easy to make in your favorite fabrics. And best of all, you get two bags for one! When you need a change, simply turn the bag inside out for a completely different look. The bag features a long shoulder strap, with pockets on the sides and a large pocket on […]
Tote bags are the perfect bag for times when you need to carry lots of stuff. These types of bags can be made in different sizes to suit different purposes – such as for carrying your groceries, for travel, or for storing your sewing projects. Tote bags are generally easy to make and can be […]
Vintage Coin Purse Coin purses never go out of fashion and you can never have too many. This cute purse is made using a metal frame and is embellished using tiny fabric yo-yos. How cute. Find the free purse pattern here Vintage Rose Frame Purse Use vintage style floral fabric in contrasting colors to create […]
The Aria Bag is a stylish, multi-purpose bag that features a zipper closure that curves around the top section to create a large opening so you can easily see the contents of the bag. Use this bag as a school bag, diaper bag, or a tote bag to carry things while you're on the go. […]
This collection of practical designs for bags and purses are sure to inspire and includes 14 designs with a duo for every day of the week. Each complimentary pair features easy instructions that make the bags quick and fun to create. Every bag is accompanied by a variation that shows off the details in a […]
This cute bag not only looks sweet but it's practical too. This bag is perfect for use as an everyday bag and has lovely details including large buttons and piping made up in contrasting fabric, and a center box pleat. Features include two folded shoulder straps, and a zipper closure which is easy to make. […]
This reversible bag is easy to make using different fabrics, and can be worn in two different ways. Use it as a tote bag without a closure, or add a magnetic snap at the top to keep the contents secure. You could also add some batting to make it feel plush and soft.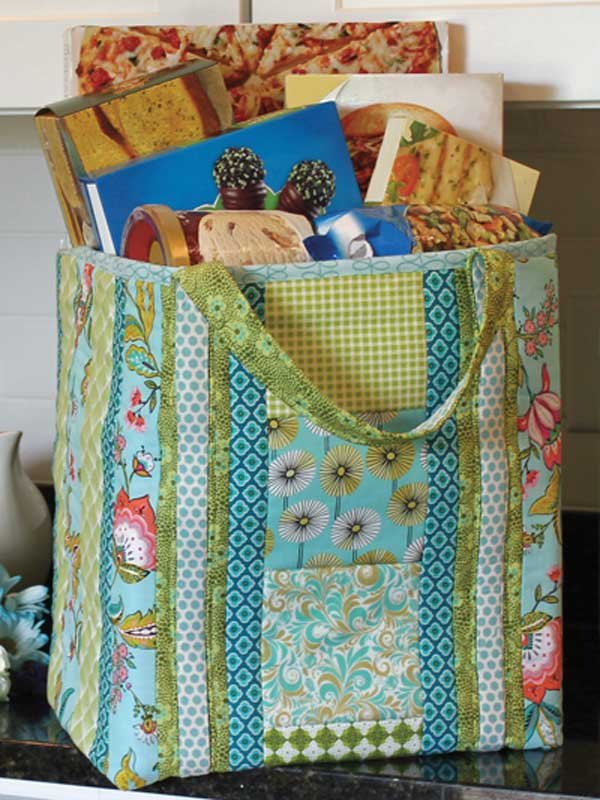 This insulted tote bag features sew-by-number construction that lets you quilt this tote as you go, making it easy and quick to assemble. Webbing for straps, plastic base and elastic for button closures are included, so all you have to do is pick your favorite fabrics and start stitching! Find the bag pattern here
Tote bags are an incredibly useful accessory and great entry point for beginning sewers. In this class, start with the basics and learn how to build a classic tote, then advance into more complex embellishments. Included are instruction on techniques that allow you to customize your tote in a whole range of exciting ways – […]
The Backgammon Bag is the perfect bag to take-along for lunch out with the girls, or a day of shopping around town. The bag has lots of room and features an interior zip pocket, two outer pockets with magnetic snaps, and a top flap closure with a twist lock. The strap is adjustable to be […]
In Style Stitches you'll find an array of new bag designs by Amy Butler. The book offers 12 basic bag patterns with enough variations to achieve 26 unique looks ranging from chic clutches and delicate wristlets to pretty hobo bags and handy coin purses. Included also are instructions for altering dimensions, straps, and embellishments to […]
The versatile Gateway Handbag is perfect to wear as a crossbody bag, or around the waist as a hip bag which allows you to go hands-free. The bag is sized to hold a wallet in the zippered front section, passports and other sensitive items in the full-width zippered back pouch, and a phone in the […]
Learn how to make a creative drawstring bag using two coordinating fabrics, plus a surprise specialty fabric that is hidden in the folds and doesn't appear until the bag is opened.
The versatile HipBag Hybrid can be worn and used in a number of different ways. The bag can be worn as a stylish shoulder bag or a convenient belt tote, or it can be attached in a snap to almost any mobility device such as a walker, a scooter or a stroller. The choice is […]
Build your sewing skills as you build this snappy travel kit. This project hits all the key aspects of bag construction, from stabilizing your fabric, installing a zipper, working curves and gussets, and adding a lining. Discover pro tips along the way to save time and create a similarly dapper bag that you can customize […]
Whether you're a beginner crafter or experienced maker, Bags will help you build on your skill level as you create a stunning range of bags from a simple drawstring tote to a stylish backpack. As you work your way through the 18 projects, you'll learn how to sew interesting shapes such as a cubed bag […]
The Field Study Fold-over Tote adapts to your needs and features a zippered top closure with handles that fold down, allowing you to carry your essentials with ease. A back pocket with a magnetic snap closure provides easy access to the contents, and an inside zippered pocket and padded slip pocket are sized to fit […]
The Ragtime Blues bag is both cute and functional and includes a removable organizer which allows you to transfer all your necessities in minutes. Choose your favorite fabric and get started making this bag using the easy, fun and fuzzy rag seams technique. Find the bag pattern here
In this video tutorial learn how to insert a zip into any bag lining. Inserting a zipper into a lining is easy, and a zipper closure at the top of the bag will ensure that your belongings are secure and safe and won't fall out.