These 10 free purse patterns are also very creative in the way that they have been designed, and the instructions include techniques for adding surface texture, surface design, creative sewing and embellishing. You'll definitely enjoy making these purses.
Don't throw away the selvage edges of your fabrics; instead use them to make this interesting zipper purse. Sew the selvage strips together to create the fabric, then use the fabric to make the purse.
Put your free motion sewing skills into practice with this artsy style bag. The detailed instructions explain how to sew this spring-time garden design in your favorite decorative threads. Or get creative and use your own free motion design!
3. The Sweet Scallops Tote Bag
The Sweet Scallops Tote Bag is made using overlapping rows of scallop shaped strips which gives a plain tote bag an interesting dimensional look. Using 9 different fabric prints, this is a great project for using those coordinated fat quarter packs you've been hoarding.
4. Turkish Bag
Get out your favorite brightly colored fabrics and trims and sew up this fun tote bag. The body of the bag is pieced together in strips, and ric-rac trim is added along the seam lines for embellishment. The yoke has a curved top to give the bag a nice shape, and there is plenty of room inside.
This creative clutch bag is embellished with lace trim, buttons and leather studs, although you could also use stick on bling which is much easier to attach. You'll need some sewing skill to put this bag together, however it's well worth the effort; this bag is definitely eye-catching.
This tote bag is very simple in design and is made using white cotton canvas and brown cotton fabric. The leather strap is creatively designed to give free access to the contents inside the bag, but it will automatically close the bag once the strap is picked up. Very creative!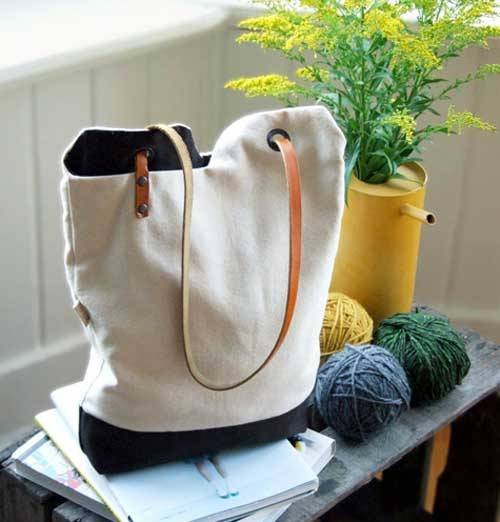 7. Bollywood Bag
This simple foldover clutch bag is made special by using embellished patchwork in strong bright colors which gives it a definite Bollywood style. This is a bag that would look great made up in your favorite special occasion fabrics such as silks and satins. Use embroidered fabrics or embellish it yourself.
This purse is made from an old hard-covered book and a coffee sack. The book covers are lined with fabric, bag handles are attached and the coffee sack is cut up into pieces and then rejoined. This is a fun purse and very creatively made.
This embroidery travel case is the perfect bag for holding your hand embroidery when you're traveling, or even for just keeping it organized. This bag is designed to hold your carded embroidery floss with a pocket on the back to hold a 6″-8″ embroidery hoop, plus space for scissors and other small notions and tools.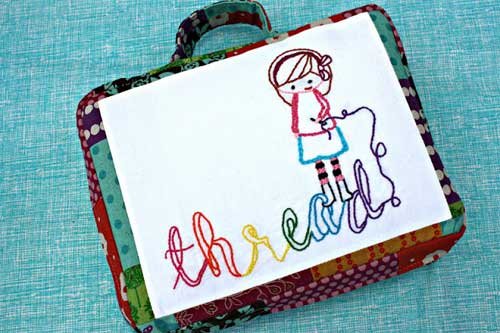 10. The Knotty Bag
The Knotty Bag is made using strips of fabric that are tied in a knot before the bag is sewn together and this creates an interesting textured appearance. For this bag you'll need heavyweight stabilizer which will help to keep the shape of the bag because it's quite long. This is another great project for using fat quarters in coordinating colors.