The Latest in Sewing Accessories
Developed with advanced, cutting-edge technology, the ScanNCut2 cutting machine gives artists the freedom to make truly unique, one-of-a-kind creations with the push of a button. This machine provides users with the flexibility of connecting wirelessly or directly to...
The Latest in Bags & Purses
The Grace Travel Satchel is the ideal toiletry case for organizing all your beauty essentials. This pretty, multi-compartment satchel easily fits into a large bag or suitcase and is the perfect way to keep things organized while traveling. Grace not only offers a...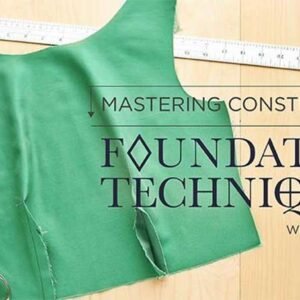 Start sewing with the foresight and finesse of a designer! Master stitching order and apply sophisticated skills for darts, pleats and seam finishes. Build a foundation of professional sewing techniques alongside Apparel Arts instructor Sara Alm. Start by learning to...
From applique to zippers and everything in between, this book covers the most essential sewing terms and techniques. Included are 101 common sewing terms and techniques with step-by-step tutorials that will guide you and show you in detail how to apply the techniques...
Confidently sew knit garments on your home machine – no serger required! Knits are everyday wardrobe staples. They're comfortable and flattering, and also fast and easy to sew! Join author Ann Steeves and learn how to sew knit garments using a regular sewing machine –...
Give your sewing mojo a creative boost with four dazzling mini quilts. Ready for a project that's simple and FUN? Designer Suzy Williams shares her inspiring techniques to sew a frameable series of four mini quilts. Play with color and improvise your designs as you...
Learn how to make crazy quilting more contemporary with an array of easy-to-master techniques. With 7 projects to choose from, learn how to combine traditional methods with techniques for stenciling, photo transfer, and angelina fiber. Find the book...
Decorate your table for spring or summer with this pretty table runner. Use your favorite fabric scraps for the applique, add in tan colored fabric for the background, and finish with a some red plaid for the sashing and binding. Find the sewing pattern...