The Latest in Sewing Accessories
These sewing clips are great alternatives to pins especially when working with heavy weight fabrics, piles and vinyls. Each clip opens widely to hold layers of fabric, and the different colors and sizes allows you to choose the clip that best contrasts against any...
This St Jane Sewing Basket is made using beautiful, decorative fabric. The basket is lined in coordinating fabric and has a large oval design with a black metal handle. It has a magnetic snap closure on the front, a lift-out divided tray, a pin cushion and pockets on...
The Latest in Bags & Purses
This classic handbag is inspired by doctor bag purses of the past. True to the style, this bag opens wide but does not require an expensive frame. The bag features one large zippered pocket in the lining, and is available in three sizes. Get the bag pattern...
Turn your knack for making crafty accessories into a business. Handsewn accessories have so much more charm and personality than their mass-produced counterparts. And stylish ladies love them! Learn how you can use your sewing skills as a foundation for a thriving...
Gather your fabric scraps and make some cute pincushions. Discover the joy of making small useful projects from your stash and gifting them to others who share your love of sewing and quilting. Choose from 17 unique pincushions and needle books and let your creativity...
Draft a pattern for a sophisticated jacket or coat with customizable details. Ready to test your patternmaking skills? Master designer and pattern drafter Suzy Furrer shares in-depth tips and techniques to help you draft a full set of patterns for a chic, tailored...
Don't give up on your mismatched scraps - transform them into a stunning scrappy quilt. Turn even the wildest stash into a well-coordinated quilt with the Rule of Five guidelines and tips for creating cohesive print combinations. Dive into methods for quickly cutting...
This scrappy quilt pattern is the perfect quilt project to make using those leftover 2 1/2″ strips such as jelly rolls, or even leftover fabric scraps. Coordinate the colors to make one for every season. Find the quilt pattern...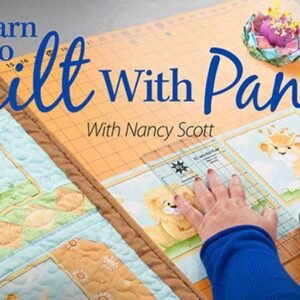 Looking for quick and easy quilt ideas? Making quilts using preprinted panels is ideal for making themed projects such as inspirational quilts, baby quilts and much more. Quilting with panels is significantly quicker than traditional pieced projects, and the beautiful...