Plus-size women deserve cute clothes! Learn how to make comfortable and flattering garments with Barbara Deckert, author of Sewing for Plus Sizes. Learn how to make stylish clothes that fit and flatter your body and pick up dozens of techniques and design tips about...
Dress up your decor and learn a variety of decorative sewing techniques to elevate pillows, slipcovers and more, with guidance from Simplicity's Joy Macdonell! Add specialty details to timeless Simplicity sewing patterns and instantly enhance your decor to create...
Make sure your small business makes money. How to Make a Living Selling What You Make is your complete guide to building a thriving handmade business. Learn how to generate revenue from the beginning while balancing longer term growth, find the best and worst revenue...
If you've ever wanted to learn how to design fabric, this series will walk you through the creative process step by step. Learn from fabric design experts as they share their process from inspiration to finished collection. The series covers designing repeats by hand...
Transform your wardrobe into a treasure chest of garments that make you look and feel your best. Take all the guesswork out of wardrobe planning and discover how to select flattering fabrics with colors that complement your complexion, as well as how to choose...
Breeze through your best sewing with more efficiency and less effort than ever. Prepare, cut, sew and finish professional-quality garments with advanced industry techniques. Consistently produce impeccable results as sewing expert Janet Pray teaches you the techniques...
Designer Katrina Walker shows you a wealth of classic couture-inspired seaming techniques to elevate simple garments to standout attire. Work through each seaming technique to build a reference notebook of techniques you can apply to any garment. Discover the creative...
Sew weaving strips with fabric and fusible foam, then diagonally weave them into a gorgeous basket. Join expert Carol McLeod of Aunties Two and learn to sew and then weave a basket using beautiful fabrics. You'll learn tons of excellent sewing skills useful for many...
Turn your knack for making crafty accessories into a business. Handsewn accessories have so much more charm and personality than their mass-produced counterparts. And stylish ladies love them! Learn how you can use your sewing skills as a foundation for a thriving...
Draft a pattern for a sophisticated jacket or coat with customizable details. Ready to test your patternmaking skills? Master designer and pattern drafter Suzy Furrer shares in-depth tips and techniques to help you draft a full set of patterns for a chic, tailored...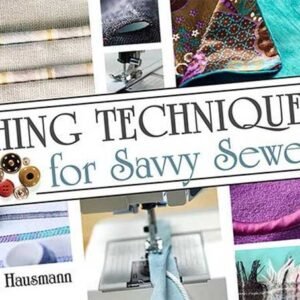 Fabulous finishes don't have to take up all your time! Learn efficient ways to sew stunning topstitching, piping, binding, lining and more. Discover stress-free, speedy sewing methods and achieve stunning end results in every project. Learn how to support your...