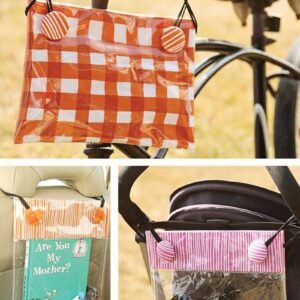 Keep organized when on-the-go with these simple pouches. The bungee cords allow them to go with you on a bike, in the stroller, or even in the car. Just wrap the bungees around the handle and secure on the button. Combine clear vinyl and a fabric band to keep an eye...
Yoko Saito's designs for bags and accessories are distinctive for their use of creative motifs and charming details, while her modern aesthetic utilizes muted tones for a soft, relaxing feel. In this book learn to create one-of-a-kind patchwork pieces. Choose from 25...
The In-Style Suitcase Bag is styled like a soft miniature suitcase using Soft and Stable interfacing. This bag is easy to make and features an outside pocket, double handles, and a zipper closure. It can be sewn using a serger or standard sewing machine, and metal...
Carry your accessories in style when you make the zippered pouches in Clam Up Sewing Pattern. These pouches are easy and fun to make and are available in five sizes. Each bag has a wide opening for easy access which makes them perfect for storing and carrying make-up,...
Create your own one-of-a-kind tote bag in only a few hours with Sew and Go Totes. The book includes bags for every occasion, and you can choose from 9 quilted projects that include tote bags, purses, duffle bags, and a wallet. These bags are quick and easy to make in...
This stylish camera bag has interior dividers that can be repositioned to better organize your camera and its accessories. It's also the perfect bag for toting other items and could be used for travel, vacations with your family, a day at the beach, picnics and so...
This simple, chic and sophisticated tote will make you feel as if you're relaxing on one of Fiji's gorgeous beaches. The super-easy pattern and design make it quick-to-stitch and best of all, it's fat quarter friendly! Find the sewing pattern here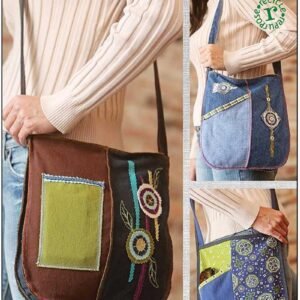 Showcase your creativity with this crossbody bag in one of three versions. Create in cottons with an angled front pocket and bias finished edges. Serged seams are featured on the denim version along with a patch pocket and modern floral applique. Alternatively recycle...
Create a unique messenger bag that's perfect for you with this kit. Use the pattern together with your favorite fabric or faux leather and the included metal hardware, to make a bag suitable for any occasion. The easy to follow instructions makes this pack ideal for...
This stylish bag is just the right size to hold your essentials and is perfect for taking to quilt shows, for travel, or to use as a runaround bag. The bag is fat quarter friendly, and features a long cross-body strap, easy zipper top closure, and lots of pockets both...
Choose from 22 stylish bag designs in a simple Japanese-inspired style. Projects include a laptop bag, pocketbooks, knitting and sewing organizers, and a variety of purses and shoulder bags. The bags and purses are mostly made out of simple rectangles and squares,...