Mix & Match: Inspired Scrappy Quilting Online Class
Read More
Mix & Match: Inspired Scrappy Quilting Online Class
Stay hands-free and organized with a backpack you sew yourself. Join designer Annie Unrein as she guides you step by step through creating a stylish, durable and professional-quality backpack with pockets, zippered compartments, a magnetic flap and more. Find the...
Everything you need to start embroidering with confidence. Love working with your hands? Give embroidery a try! In this comprehensive beginner's class, expert Kat McTee walks you through the basics from choosing fabrics and floss to hooping up and crafting 19...
Celebrate and use your sewing skills with 15 stylish yet functional patterns for a wide variety of sewing organizers. Designed to work together, many of the smaller projects fit into larger ones and can be made into a coordinating set. Showcase trendy fat quarters and...
Learn Natalie Chanin's signature methods for embellishing hand-sewn garments. Renowned fashion designer Natalie Chanin reveals her applique and beading techniques to build beautiful layers of texture through embellishment. Expanding on Natalie's previous class, The...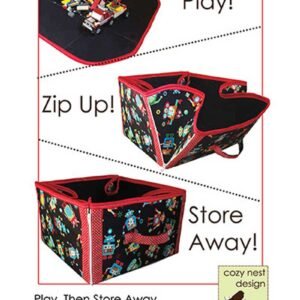 Make toy clean-up fast, fun and easy with this 2-in-1 play mat and storage tote. After play, just zip up the corners and the mat quickly converts to a storage tote with two handles for easy carrying. Includes instructions for two sizes. Get the sewing pattern here...
Take the guesswork out of finishing your quilts with practical tools and techniques. Your quilt pattern might say "bind and finish as desired," but what does that actually mean? In this one-stop shop for finishing quilts, expert Kelly Ashton provides you with...
Instead of dealing with precise paper patterns and cutting measurements, learn how to piece fabric onto small, manageable batting blocks. Let your creative juices flow as you quilt directly onto the blocks, whether in large abstract zigzags or small structured...
Plan and execute your quilting vision to take your quilt tops from folded to finished. The best quilting complements all the hard work you put into piecing your top. But what does that look like for your quilt? In this mini class, expert Lori Kennedy helps you decide...
These Autumn Mug Rugs are the perfect way to get ready for the autumn season, or to just sit and enjoy a cup of coffee or tea anytime. Because mug rugs are small sewing projects, they're quick and easy to put together using fabric scraps from your stash. They also...