The Sewtionary: An A to Z Guide to 101 Sewing Techniques and Definitions
Read More
The Sewtionary: An A to Z Guide to 101 Sewing Techniques and Definitions
This insulated, roomy tote is the perfect bag to carry all your supplies when going on picnics. The bag features pockets on the outside to store picnic essentials, adjustable end pockets for wine or water bottles, and is fully lined so that it's easy to wipe it clean....
Start sewing with the foresight and finesse of a designer! Master stitching order and apply sophisticated skills for darts, pleats and seam finishes. Build a foundation of professional sewing techniques alongside Apparel Arts instructor Sara Alm. Start by learning to...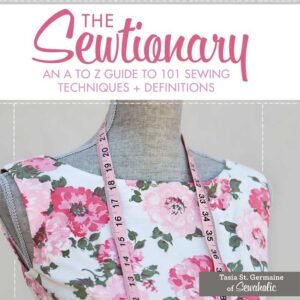 From applique to zippers and everything in between, this book covers the most essential sewing terms and techniques. Included are 101 common sewing terms and techniques with step-by-step tutorials that will guide you and show you in detail how to apply the techniques...
Confidently sew knit garments on your home machine – no serger required! Knits are everyday wardrobe staples. They're comfortable and flattering, and also fast and easy to sew! Join author Ann Steeves and learn how to sew knit garments using a regular sewing machine –...
This cute potholder is the perfect gift for your camping friends. This pattern is versatile and you can make the long oven mitt with pockets on both ends, make the blocks into individual pot holders, or incorporate the cute camper block in larger quilts. Get the...
Looking for quick and easy quilt ideas? Making quilts using preprinted panels is ideal for making themed projects such as inspirational quilts, baby quilts and much more. Quilting with panels is significantly quicker than traditional pieced projects, and the beautiful...
A compilation of 365 free-motion quilting designs, this book contains a treasury of ideas and inspiration. From blocks to sashing to borders, find hundreds of filler designs that are perfect for every area of your quilt, as well as quick tips on everything from...
Consistently stitch versatile, modern quilting designs using specialty rulers. Does free-motion quilting make you nervous? Get ahold of your stitches with a simple tool longarm quilters have been using for years — specialty rulers! Designer and Midnight Quilt Show...
This quilt is the perfect throw for Autumn. The quilt features bright orange pumpkins that are constructed into blocks and then pieced together. Each pumpkin block is embellished with appliqued leaves, together with appliqued vines and leaves on the border. Find the...