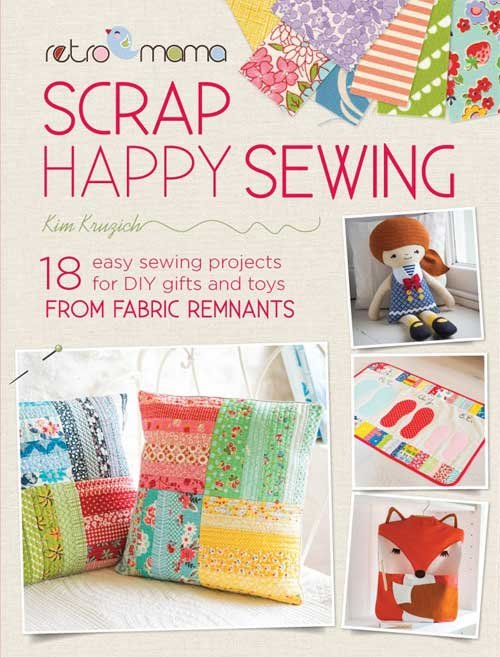 Scrap Happy Sewing: 18 Easy Sewing Projects for DIY Gifts and Toys from Fabric Remnants
Read More
Scrap Happy Sewing: 18 Easy Sewing Projects for DIY Gifts and Toys from Fabric Remnants
This book includes easy instructions so you can whip up fun, fashionable bags, purses, and totes in no time at all. Ten delightful sewing projects include messenger bags, shoulder bags, backpacks for kids, eco bags for shopping and tote bags for everything else....
Learn how to take your own measurements, make basic pattern adjustments and create fitting muslins for personalized garments. Discover how to measure yourself on your own using easy-to-follow techniques. Start by finding the correct pattern size for your body and...
The 18 adorable handmade projects in Scrap Happy Sewing combine sewing, patchwork, applique and embroidery. Project include bags, cushions and pillows, quilts, organizers, and more. Using easy-to-follow instructions, these sewing projects are perfect for beginners who...
These cute owls are fun and easy to make. The owls are completely hand-sewn and are made using fabric yo-yos, buttons and a stick. Use your favorite fabrics to coordinate with your decor, your little one's favorite colors, or use fabric in neutral colors to make it...
Create a fun and comfortable bed for your furry pal. Piece in denim fabric or recycled denim jeans, or construct with your favorite fabric. This pillow has a removable cover which makes washing easy, and also includes instructions for a pillow insert. Get the sewing...
Create a gorgeous applique quilt without touching a hand-sewing needle and achieve heirloom results with your sewing machine. Learn time-saving techniques that help you avoid drawn-out hand applique processes without sacrificing quality stitching. Get tips that help...
Discover the mix-and-match possibilities for fabulous quilts with these 24 row designs. Included are patterns for tried-and-true favorites, fresh quilts for every season, and playful, carefree designs, plus nine blender rows to help tie them all together. Find the...
Showcase your favorite colors in this fun and easy quilting project. This quilt is made using simple piecing and applique techniques. Add accents of applique and a four-patch block here and there and the quilt will be finished in no time at all. Find the quilt pattern...
Welcome to the world of cutting-edge fabric designer Tula Pink, where clever quilts show off fanciful fabric, and your imagination can be let out to play. Featuring fabrics that you know and love, Tula offers 20 patterns with her signature flair for color, design and...