The Latest in Sewing Accessories
This may be the world's smallest steam iron with a mighty ability to set crisp creases and remove wrinkles. This iron is strong enough for everyday use at home, yet lightweight and compact for taking along with you. Its 1.4-ounce water capacity, quick 15-second...
The Latest in Bags & Purses
This is the perfect bag for organizing your sewing supplies when you travel. This little bag can sit on your lap, and unzips to reveal thread, scissors, needles, pins, measure tape, or whatever supplies you might need. The clear vinyl pocket allows you to see whatever...
This book shows you how to recreate the stylish, high-end look of designer bags at a fraction of the cost. Get step-by-step instructions for making more than 50 useful and stylish bags, a basic overview of sewing techniques, and tips for going green with recycled...
Classic and professional with downtown edge, this bag combines high-end detail with practical functionality. The extra long zipper opens wide for easy access while the side clips provide its stylish figure. This bag features an optional removable shoulder strap and...
Use oilcloth to sew a marvelous market bag and a sturdy sewing basket! Learn how to easily cut, stabilize and sew this vibrant, durable fabric. Take the fuss out of sewing with oilcloth, so you can create projects that last! Join instructor Kathy McGee and learn the...
Take your handmade business to a truly professional level with practical advice from industry experts and learn how to sell your handmade items for a real profit. This hands-on guide to the sewing business includes 16 new sewing patterns, all copyright and royalty...
Bring your kitchen to lifewith these cute butterfly potholders. These potholders are easy to make using hand applique, basic embroidery and finished with hand-sewn bias binding. The pattern includes illustrated step-by-step instructions, a metric conversion chart,...
This cute and functional owl pincushion is so fun and easy to make you won't be able to stop at just one. The body is the pincushion and the wings can be used as a needle case. This little owl would also look sweet made into a tree ornament and is the perfect gift...
Use your sewing machine to add charming designs that look handmade! Terry White teaches you how to duplicate a wide variety of hand-embroidered stitches. Ditch your digitized designs and embroider in fabulous free motion and learn a new technique to achieve...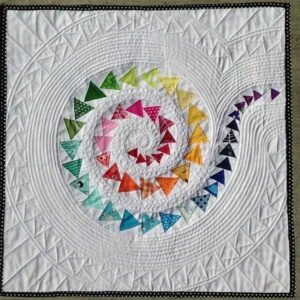 This spiral geese mini quilt is fun and easy to make. makes The quilted design can be made into a mini quilt which is perfect for hanging on the wall, or it can be used as a center block for a larger quilt. The quilt looks fresh and modern using coordinating colored...
Learn efficient techniques for working with pre-cuts and enjoy your fastest piecing ever. Start quilting with pre-cuts for projects you'll actually finish! It's all possible with author and quilter Amy Smart's timesaving techniques. Amy will show you how to be...
Choose from 11 quick and easy quilts that you can whip up in a jiffy - even if you're a total beginner! These simply stunning quilts are designed to be made using layers cakes - your favorite 10-inch-square precuts. Helpful how-to instructions and illustrations will...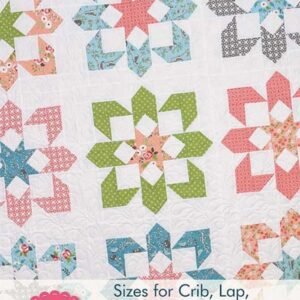 The littlest stars shine, nestled in the centers of these fat quarter friendly blocks in Glow Quilt Pattern! Paired with contrasting colors, these easy blocks give off a strong glow. The pattern offers four size options, making it great for beginners to expert...