The Latest in Sewing Accessories
This mixed notions jar includes three types of notions to keep your thread spools and bobbins under control. Included are 20 bobbinis that will keep your bobbins organized on top of color matching thread spools, 20 peels that hug your thread spools to prevent...
The Latest in Bags & Purses
This moderate sized yet roomy tote, doubles as your personal assistant offering pockets to keep everything organized. The bag features lots of inside pockets and both long and short fabric handles. Making this bag using your favorite coordinating fabrics. The lining...
This collection of patchwork bags is sure to inspire you. With 13 designs and 21 styles to choose from, learn how to easily create your own unique patchwork bags and accessories including evening bags, practical portfolios, backpacks and more. Learn new techniques on...
The Quilters Organizer Bag is perfect for organizing your quilting and sewing tools and supplies when traveling or going to classes and retreats. Snaps on each side help to keep the box shape and allow you to open the bag flat on one side only, or flat all the way....
Sewers with beginner skills can now learn how to sew their own designer handbag with basic supplies and a sewing machine. Learn step-by-step how to make a stunning batik handbag with lots of pockets and space inside. Choose a solid or pieced fabric bag, interior and...
These place mats are quick and easy to make and are perfect for using up your fabric scraps. Choose from four scrappy designs, each with a scalloped edging that gives each place mat a little extra charm. Instead of fabric scraps, you could also use precut mini charm...
Sew tailored knit attire your coworkers, friends and family are sure to admire. Create chic knit garments as you learn how to sew pontes and other stable knits. Custom clothier and beloved Craftsy instructor Pam Howard will guide you step by step through stabilizing...
Start a new sewing project and finish it on the very same day. From pouches and totes to baskets, these clever and crafty little things will make you feel like a superhero stitcher. Choose from 20 projects including a quilty first-aid kit, cute magnets, headbands and...
This unique decorative bowl is quick and easy to make using Craf-tex double sided fusible stabilizer. When completed, the fabric bowl ends up with a beautiful 12-pointed star at the bottom on both the inside and outside, and the rim is embellished at the top with...
Pick up your needle and create landscapes filled with fanciful flowers and creatures from field, forest, and ocean. Choose from 15 applique quilting projects in a style that's part folk, part contemporary, and entirely delightful. Easy freezer-paper techniques and...
Brighten any room with this beautiful butterfly quilt. The quilt is easy to make using simple applique and piecing techniques. Choose your favorite coordinating fabrics or layer cakes to make the butterflies, and neutral colored fabric squares for the background. If...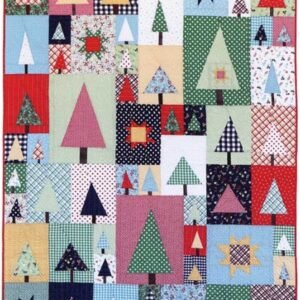 The Pine Hollow Patchwork Forest Quilt Pattern features adorable blocks of trees and stars. Make this quilt using your favorite fat quarters using a variety of shades and patterns to give the quilt lots of visual interest. Find the quilt pattern...
Unlock amazing quilting possibilities using straightforward ruler strategies! Find out how quilting with rulers makes it easy to achieve beautiful results on your home machine. Begin with an overview of essential techniques then learn how to quickly stabilize your...